Qi Lai Shan / A New High Mountain Growing Area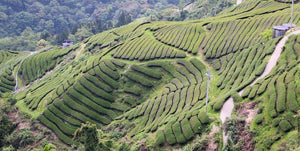 This Spring I took some friends to the Qi Lai Shan Shi Feng Tea Factory, the source of our Qi Lai Shan High Mountain tea. Qi Lai Shan is a newer and very small high elevation tea production area in Nantou county consisting of only about 5 small factories. The tea fields are at an elevation of 2050m, pushing them into a category reserved for only the highest elevation teas in Taiwan. 
Getting there was an adventure. It was probably the scariest "road" I've ever been on. It was more of a mule trail paved in concrete. They don't even have mules in Taiwan. Some of the turns were so sharp that you had to make a potentially deadly three-point-turn just to get around them. A small miscalculation of gas or brake would send your vehicle over the edge. My companions who were visiting from Germany were terrified.
We made it to the factory just before dark. It turns out we had come in on the wrong road!  Anyway we made alive, and just in time for a couple rounds of last year's excellent spring tea before a gracious dinner with the farm staff and management. We resumed drinking tea after dinner. This time we drank the farm boss Mr. Cai's personal stash (even though he was in Taipei on business) of winter tea which had sold out days after it was produced. Then we had some of their exclusive, high quality, small batch high mountain black tea. It's very good. It's only made in the summer from the tippy sprouts, so the amount is very small.
I have a good connection with Mr. Cai, the farm's owner. We had met at a few tea expos in Taiwan and we really get along well. He's very friendly and immediately took a liking to me and is always very excited when we meet. He even told me that if he had a daughter, that he would want to marry her to me. I take that as a compliment!
Thanks to our good connection with Mr. Cai we were generously offered a very comfortable room in which to stay the night. My companions had already booked a room in Puli for the night but since we were all terrified at driving back on that dangerous back road we came in on, we made some calls to try to cancel the reservations. Besides, we really wanted to stick around till the morning so we could make the 45 minute drive up to the tea fields and see the beautiful fluorescent green sprouts that were days away from harvest. Luckily things worked out in our favor and we went to bed early so we could go see the tea fields first thing the next morning. 
The road up to the tea fields was just as scary as the road we had come in on the previous evening. It was of some comfort that we were in a 4-wheel drive, rather than the Toyota Corolla we had driven in. On the 1000m climb up to the tea fields we passed through groves of ancient trees, colorful, rare birds and past Taiwanese aboriginal people who were riding down the mountain on motorcycles. 
The tea fields were spectacular, as was the view from our vantage point at 2000m above sea level. The bright green sprouts were jutting above the sea of darker green older leaves. The tea bushes were full of new spring shoots and within days of being harvested. It is crucial that the leaves are harvested at just the right time for optimum flavor. There's a 3 day window to pick the leaves. If they're plucked too early the tender new growth will produce bitter tea, if they're plucked too late they're too old. 
The tea is currently being picked and we'll be getting the first samples in the mail within a few days. We're anxiously anticipating it's arrival of the spring tea as this year was a snow year in Taiwan. Snow years are legendary for producing great tea!
3 Responses
Leave a comment
Comments will be approved before showing up.
---
Also in News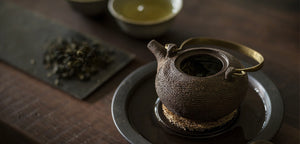 We live in a world where almost everything is mass produced. It's meaningful for us to step away from that and provide you with a handmade product that was created with joy, honor and respect. We hope transmit these qualities to you when you pick-up a piece of our hand crafted teaware. 
A ceramic stove and kettle are really special and exciting pieces of teaware to own and use. Heating water in clay adds a special quality to the art of making tea. It also benefits the flavor and texture of the water. 

Here's a couple of quick and easy ways to light charcoal for your stove. First, cut the charcoal to fit into your stove. A small hatchet or hammer and chisel will come in handy. In these photos, I'm using rod shaped, "green" charcoal. If you have smaller pieces of charcoal that don't need to be broken down to fit nicely in your stove, you can skip this step.